Air-Cooled Generators
Air-cooled generators are perfect for smaller homes and for those interested in backing up the most critical circuits. Liquid cooled generators are ideal for larger homes or small to medium businesses.
---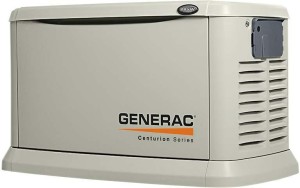 Generac / Centurion Series 8kW – 22kW
The Centurion Series generator provides quiet backup protection for your home. It provides reliable power through the most severe outages using Generac's OHVI® engine.
---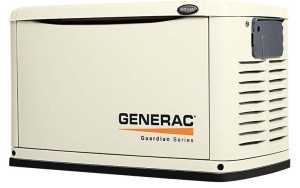 Generac / Guardian 8kW – 22kW 
Protect your home with the Guardian® Series generator. Includes an MSRP that is the lowest cost per kilowatt of any air-cooled home standby generator.
Liquid-Cooled Generators
Liquid cooled engines provide whole house power protection for larger homes and essential circuit protection for small and medium businesses such as gas stations, restaurants and offices.
---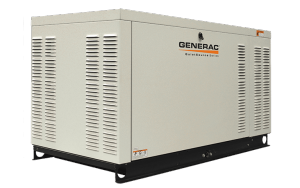 Generac / QuietSource Series 22kW -48kW

Generac's powerful low-speed, liquid cooled engine is engineered to run at only 1800 rpm for a substantially quieter generator, consuming less fuel and giving both the engine and alternator a longer life. Packs more power into a smaller footprint than air-cooled models.
---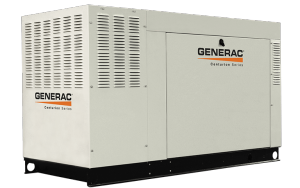 Generac / Centurion Series 25kW – 60kW
The Centurion Series is perfect for small to medium businesses that need critical back up protection. It's nuetral coloring works as a camouflage to blend into any landscaping. Includes a Nexus™ Digital Controller, which provides top of the line LED display and controls for easy-to-read functions.
---
Generac / Guardian 25kW – 60kW
Includes Generac's Nexus™ Controller, the most inclusive controller available. The clear LCD display allows for easy monitoring and management of generator functions. It's sturdy galvanneal steel enclosure provides protection from harsh weather conditions.
Mobile Link
---
Mobile Link cellular remote monitoring lets you get and share information about your home standby generator. Access important information such as current operating status, maintenance schedule, historical information, and more directly from your smartphone, tablet, or computer.