Liquid Cooled- Light Industrial Generators
Liquid cooled generators are ideal for larger homes or small to medium businesses.
---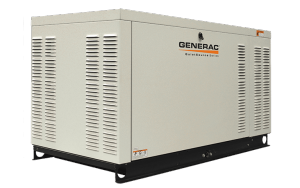 Generac QuietSource Series 22kW -48kW

Generac's powerful low-speed, liquid cooled engine is engineered to run at only 1800 rpm for a substantially quieter generator, consuming less fuel and giving both the engine and alternator a longer life. Packs more power into a smaller footprint than air-cooled models.
---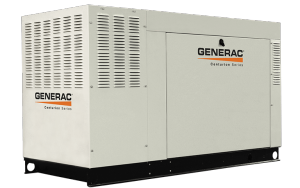 Generac Centurion Series 25kW – 60kW
The Centurion Series is perfect for small to medium businesses that need critical back up protection. It's nuetral coloring works as a camouflage to blend into any landscaping. Includes a Nexus™ Digital Controller, which provides top of the line LED display and controls for easy-to-read functions.
---
Generac / Guardian 25kW – 60kW
Includes Generac's Nexus™ Controller, the most inclusive controller available. The clear LCD display allows for easy monitoring and management of generator functions. It's sturdy galvanneal steel enclosure provides protection from harsh weather conditions.
Heavy Commercial / Diesel Generators
Heavy commercial generators offer 3-phase voltages, high quality engines and alternators, and are typically rated for either standby or prime power. Never Lose Power Again!
---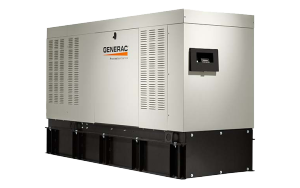 Generac Protector Series 30kW – 50kW
Generac's new Protector® Series diesel generators are perfect for light commercial use- and is now available as an affordable option for standby emergency power.
---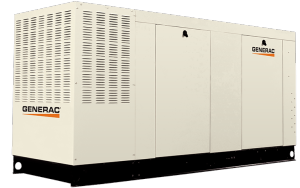 Generac Commercial Series 70kW – 150kW
Higher power nodes make the Commercial Series capable of providing full power protection for businesses and larger homes. Available in single and three phase output in a variety of voltages.
---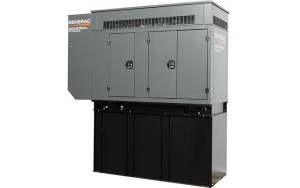 Generac Diesel Series 10kW – 80kW
Major components are designed and manufactured by Generac in a vertically integrated environment, ensuring the highest reliability standards. Back up your small office, or keep essential items powered at your gas station or convenience store. Gain a competitive edge during an outage.
---
Generac Gaseous Series 35kW – 400kW
Generac's gaseous-fueled generators are made with Generac's highest quality materials to ensure a realiable backup power solution for your business. Paired with the innate reliability of natural gas, it is one of the most realiable generators on the market.